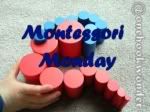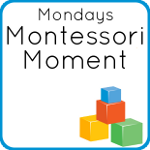 Mi querida
sobrina A
de 5 años vino a visitarnos la semana pasada. Quedó encantada con nuestro salón! Estuvo trabajando la mayor parte del día sin darse cuenta ya que ella decía que habían muchos juegos en el salón. Y hasta escogió trabajos de diferentes materias! Hizo una sesión de Montessori muy variada.
///Last week, my dear 5-year old
niece A
came to visit us. She was thrilled to see our classroom! Without even knowing it, she worked during a great portion of the day. She kept talking about how many games there were in the classroom. She even choose activities from different subjects. A lot of variety in this Montessori session.
LENGUAJE/LANGUAGE

Pareo de Láminas y Objetos.
///Picture-Object matching.
Ym participando de la actividad con su prima.
///Ym sharing the activity with his cousin.
MATEMÁTICA/MATH

Rompecabezas de Pez con números del 1-10
///Fish Puzzle with numbers from 1-10
SENSORIAL

Recipiente Sensorial de habichuelas blancas.
///White beans Sensory Box.
La Torre Rosada!
///The Pink Tower
Extensiones de la Torre Rosada.
///Pink Tower Extensions.
ARTE/ART

Usando Libros de Colorear.
///Using Coloring Books.
VIDA PRÁCTICA

?

/PRACTICAL LIFE?

Comiendo manzanas verdes. Tuve que compartir esta foto por ser la 1ra vez que Ym hace el intento de comer manzanas. Le dió 3 mordizcos y escupió 4!
///Eating green apples. I just had to share this picture of Ym making an effort in eating apples for the 1st time. He had 3 bites and spit out 4!
GrAcIaS x ViSiTaRnOs!
ThAnKs 4 StOpPiNg By!
♥2PT